EU top team to hold a debate on racism, announces Von der Leyen
Comments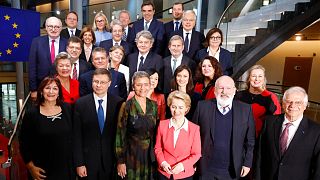 -
Senior figures within the EU will have a debate on racism next week as George Floyd's death continues to resonate on the continent.
It was announced by EU chief Ursula von der Leyen on Wednesday and will be held with all her other European commissioners.
"Because each of us has a role to play," she said. "This starts with examining ourselves, our unconscious biases and the privileges that we take for granted."
According to the European Network Against Racism (ENAR), around 10% of Europeans are from ethnic minority backgrounds, but just 28 MEPs represent those backgrounds out of 705 overall.
All of the EU's top jobs are held by white people. In more than 60 years there has never been a non-white EU commissioner.
"Why are members of ethnic and religious minorities underrepresented in political, social, and economic institutions and overrepresented in poverty, illness and law enforcement statistics?" asked von der Leyen.
"I want to get to the bottom of these questions," she told commissioners, as she announced the debate to be held next week.
These are questions the chair of ENAR has been raising for many years. Karen Taylor welcomes the news about the debate, but warned "it's about more than just representation", insisting it is important to highlight the structural racism within EU institutions "which trickles down to member states and institutions within member states".
And she pointed out in the context of the George Floyd protests, the announcement of a debate feels somewhat "opportunistic".
"It doesn't feel like an honest conversation because we've been pushing for this conversation in the past and there hasn't been a response, so it's even more crucial that the discussion that will be started won't only be symbolic, but key measures will follow," she told Euronews.
She highlights the issues that need to be addressed; the 'Brussels bubble' which reflects the insular nature of the EU institutions; the lack of applications for roles at the EU from ethnic minority candidates; and the need for solid data on just how underrepresented people of colour are within the EU.
"We must listen to many of our citizens when they say that we've let racism happen for far too long," von der Leyen added in her address.
"The Black Lives Matter protests that started in the US resonated with Europeans who are demanding justice and an end to racial inequality."
There have been widespread protests across Europe and calls for racial justice, with protesters taking aim at the monuments that celebrate controversial figures from Europe's colonial past, such as King Leopold II, as well as the current injustices minorities in Europe say they face.
_The headline of this story was amended on Thursday 18 June. _