Deadly Paris stabbing becomes terrorism probe
Comments
By Euronews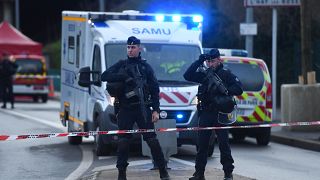 Copyright

CHRISTOPHE ARCHAMBAULT / AFP
The deadly stabbing in a Paris suburb that happened on Friday became a terrorism probe on Saturday as authorities revealed the attacker was radicalised.
The 22-year-old shouted "Allah Akhbar" as he attacked several people in a park in Villejuif, to the south of the French capital, Laure Beccuau said.
The French counter-terrorism prosecutor announced on Saturday it would take over the investigation for "murder and attempted murder", which was started by the police of the Val-de-Marne region.
The man, identified only as Nathan C, had received care in a mental health facility until last May, Beccuau added.
What happened in the attack?
The attacked stabbed several people around 14h CET on Friday afternoon in Villejuif. One man later died and at least two other people were injured, including one severely. Police killed Nathan C in a nearby town L'Haÿ-les-Roses.
Vincent Jeanbrun, mayor of L'Haÿ-les-Roses, said the man had fled to the Carrefour shopping centre where he had shown signs of wanting to continue the attack
"Fortunately, the police could quickly go to the scene and neutralise the attacker," Jeanbrun told French TV.
What do we know about the victims?
The two injured are being cared for in different hospitals in the Villejuif area. AFP reported that the severely injured victim is a man, and the other a woman.
The victim who died was a 56-year-old Villejuif local who tried to protect his wife from the attacker, the mayor of Villejuif Franck Le Bohellec told AFP.
"He was walking with his wife when the attacker approached, he tried to protect his wife and was the one who was stabbed", Le Bohellec said.
How has France reacted?
French President Emmanuel Macron offered his support to the victims and their families.
"The year starts in mourning because of the tragedy in Villejeuif," he wrote on Twitter, adding: "We are resolutely continuing the struggle against indiscriminate violence and our fight for the safety of all French people".
The French Secretary of State for the Interior ministry, Laurent Nunez, went to the scene of the attack on Friday and praised the police for their "courage, efficacy and reactivity". They "immediately neutralised the attacker, preventing him from going further on his murderous path", Nunez said.
Christophe Castaner, the French interior minister, thanked the police and the emergency services on Twitter for their "reactivity" and "professionalism" and expressed his "gratitude".