Europe - what's in store for 2020?
Comments
By Meabh McMahon, Elena Cavallone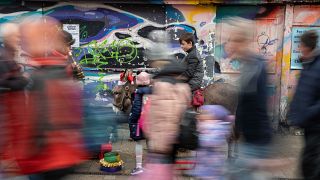 -
Copyright

© EU

-

Barry Cronin
It may be a brand new year for the European Union but it comes with the same problems as last, only this year, Brexit just got real. It is far from being done. With the UK set to leave the bloc at the end of January, the big goal then will be to hammer out an EU/UK trade deal by the end of the year. Some say talks could turn ugly as the UK Prime Minister Boris Johnson threatens to disregard EU rules.
"I want you to know that I am going to work my socks off to deliver your priorities and make this the year we unleash Britain's potential. Of course we start this month by getting Brexit done. On the 31st we will be out of the EU, free to charter our own course and sovereign nation, taking back control over our money, our laws, our borders, our trade and with that certainty we will restore confidence for people and for businesses," Johnson said in his New Year message.
Meanwhile, European Commission president Ursula Von de Leyen has said this week she has serious concerns about the lack of time available for trade talks calling on Boris Johnson to reconsider his hard deadline of December 2020, and is set to visit Downing Street in the coming days.
While the EU quarter of Brussels was empty this week as institutions are still on holidays, Euronews reporter Elena Cavallone caught up with Professor of European Union Law & Policy at HEC Paris Alberto Alemanno to get his take on how this could all pan out.
On Brexit: 
"The EU is not in the position to impose an extension, unless the UK will ask for it. So in a way this is the first time ever that the UK has more negotiating power then the EU. The model Johnson is asking for will lead to a Europe with two regulatory systems, in which trade will be further fragmented, in which probably the major cost for such a choice will be born by British workers who in matter of few months will realize how difficult it is for the UK to keep business as usual. So we might expect a a lot of Brexit headlines in the coming weeks because there will be certainly an acceleration, breaking some of the Brexit fatigue we are all victims of."
And the big question - which country will take Britain's place at the EU top table?
"Well, in terms of new political weight within the summit I think the most likely candidate could come from the Visegrad 4 and I expect Poland to take over. Its leadership is showing no caution or no worries in challenging the news leadership, which by the way has been supportive because Mrs Ursula Von der Leyen has been receiving the support of "Law and justice", the ruling party in Poland and therefore there is a special relationship between the European Commission and Poland."