The Brief: von der Leyen prepares for first foreign trip as Commission President
Comments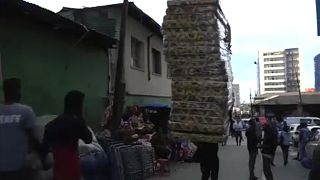 It's the first work week of the new European Commission and President Ursula von der Leyen already raised some eyebrows in the Brussels bubble.
She announced that she would make her first official foreign trip to Ethiopia this weekend - a country that has emerged as a favorite EU partner in Africa.
Europe supports that country's reform process and both sides cooperate closely in areas ranging from regional peace and security to trade and investment.
"The African Union representing African countries is very important for us. We want a good partnership. We have a lot of common issues to tackle and common problems to work on," von der Leyen said.
The EU development cooperation portfolio in Ethiopia is one of the largest in Africa and in the world (€715 million for the period 2014-2020); and the country is also one of the major beneficiaries of the EU Emergency Trust Fund for Africa (€258 million for 2015-2018).
There is also pressure from global competition.
"Brussels is also looking to compete with Beijing, China, which already enjoys a very strategic partnership with Addis Ababa. The EU views Ethiopia with 100 million people and still growing as a potential growth market for EU companies and exports. There are currently over 300 European companies that are active in Ethiopia," Ronald Kato from Africanews explained.
Ursula von der Leyen is set to meet one of the most exciting African politicians during her trip: Prime Minister Abiy Ahmed who was awarded the Nobel Peace Prize 2019.
And other news in brief...
Czech Republic'sPrime Minister Andrej Babis declared that he will stay in office despite the EU Commission investigating into a conflict of interests concerning Agrofert, a Czech company belonging him.
Babis has also ruled out that the Czech state will have to give millions of Euros of EU funds back to Brussels, which were subsidies used by Agrofert.
The EU Commission said that the result of the audit has been given to Prague's government, but that it cannot be made public because the investigation is still ongoing.
And more...
Only geographical names protect the label.
Through this motivation, the EU Court of Justice stated that a German balsamic vinegar producer could use the Italian word "Balsamico" in its label.
Italian vinegar makers wanted "Balsamico" to be of exclusive use for the Italian province of Modena vinegar products. Whereas the wording "Aceto Balsamico di Modena" has been protected since 2009, "Deutscher Balsamico", according to the EU Court, can be used from now on.