Who got the top jobs in Boris Johnson's new government?
Comments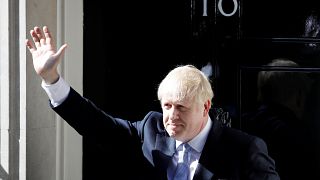 Copyright

REUTERS/Peter Nicholls

-
Britain's new Prime Minister Boris Johnson unveiled his cabinet of senior ministers on Wednesday evening.
Sajid Javid, a rival of Johnson's in his bid to succeed Theresa May, will be the chief finance minister while ex-Brexit Secretary Dominic Raab will take the helm of the Foreign Office.
Read more: 'I'm convinced we can do a Brexit deal,' says new UK PM Boris Johnson
Chancellor of the Exchequer
Previously interior minister, Javid has been named as the country's new chief finance minister, succeeding Philip Hammond. He had been housing minister then Home Secretary in Theresa May's government.
Javid entered politics in 2010 — leaving behind a successful career as an investment banker — and has since been seen as a rising star of the Conservative Party. His first foray into government was in 2012 when he was appointed to the Treasury, where he now returns.
A eurosceptic, he backed Remain in the 2016 referendum but said he did so with a "heavy heart and no enthusiasm".
He said he is "deeply honoured" by his latest appointment and that he will work "to prepare for leaving the EU, unifying our country and priming our economy for the incredible opportunities that lie ahead".
Brexit Minister
Boris Johnson chose to keep Stephen Barclay as Brexit minister.
He was appointed in November 2018 — the third in the role in just six months — following the resignation of Dominic Raab.
Since then, the job had been fairly low-key as the negotiations between the EU and the UK had been concluded and May focused on getting the Withdrawal Agreement through parliament to no avail.
But with Johnson announcing that he believes it is possible to negotiate a "new deal, a better deal" before the October 31 deadline — but that the country should nevertheless prepare for a no-deal scenario — his responsibilities could get tougher.
Foreign Minister
The aforementioned Raab, who quit Theresa May's government after just three months as Brexit minister in November 2018 to protest the Withdrawal Agreement, returns to the government frontline as foreign affairs minister.
He started his career in international law and then became a civil servant for the Foreign Office.
He told reporters on Wednesday evening he is "hugely humbled" by his role.
He also said that he will "not jump to any hasty decisions" on Iran, adding: "The most important thing is to get us out of the EU by the end of October, preferably with a deal."
Home Secretary
Priti Patel has been named the interior minister.
The 47-year-old resigned as International Development Secretary in November 2017 after it emerged that she had held unauthorised meetings with Israeli officials.
A staunch Brexiteer and Johnson advocate, she has also voiced controversial opinion such as calling for the death penalty to be reinstated and for international aid to be scrapped.
Defence Secretary
Ben Wallace has been promoted to Defence Secretary from his previous role as Minister of State for Security and Economic Crime.
The 49-year-old served nine years in the military including stints in Northern Ireland, Cyprus and Latin America. He also worked for the former UK government agency, Defence Evaluation and Research Agency.
He campaigned for the UK to remain in the EU and has warned that in November last year that a no-deal Brexit "would have a real impact on our ability to work with our European partners to protect the public".
Trade Secretary
Liz Truss replaces Liam Fox as Secretary of State for International Trade.
An MP since 2010, she first entered government in 2014 and has been minister for the environment and justice before being appointed Chief Secretary to the Treasury in 2017.
A pro-Brexit campaigner, she has been a vocal supporter of Johnson and advocated for the Uk to keep no-deal on the table as a negotiating strategy.
Education Secretary
William Gavinson has been appointed Secretary of State for education. The former defence secretary was sacked by Theresa May two months ago following allegations that he leaked state secrets. He denied the allegations.
To note
Michael Gove, who was seen to have betrayed Johnson in the aftermath of the 2016 Brexit referendum, was removed from the Environment Ministry to be appointed Chancellor of the Duchy of Lancaster — which is the private estate of the royal family — or effectively minister without portfolio. He will have responsibility for no-deal Brexit planning.
Arch-Brexiteer Jacob-Rees Mogg, who as head of the anti-EU European Research Group spearheaded the campaign against Theresa May's Brexit deal, enters the cabinet as Leader of the House of Commons. Other prominent "leavers" Andrea Leadsom (Secretary for Business, Energy and Industrial Strategy) and Theresa Villiers (environment secretary) also return to government.
Meanwhile, Jeremy Hunt, who was Johnson's main rival in the leadership contest, announced he will not be taking up a position in the cabinet, despite being offered one. It is understood Hunt, who had been Foreign Secretary, had ruled out a demotion. Other departures included international trade minister Liam Fox and defence secretary Penny Mordaunt.
Other key appointments include several former "remainers". Robert Jenrick as Secretary for Housing; and Nicky Morgan as Digital, Culture, Media and Sport Secretary. Matt Hancock retains his post as health minister, as does Amber Rudd as work and pensions secretary. Robert Buckland is Lord Chancellor and justice minister.
READ MORE:
No-deal Brexit: everything you need to know
Brexit Guide: where are we now?
Here's how we covered the change of leadership in Britain
Want more news?