Who is Ekrem Imamoglu? Turkey's quiet force challenging President Erdogan
Comments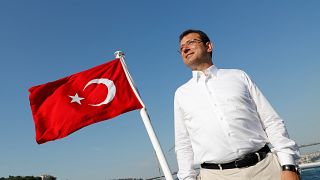 Copyright

REUTERS/Murad Sezer

-
"Whoever wins Istanbul wins Turkey."
These are words President Recep Tayyip Erdogan liked to pronounce regularly, proud of having himself been the mayor of his country's economic capital. But he will now think twice before uttering them after his party's candidate for the mayoral election, former Prime Minister Binali Yildirim, was defeated on Sunday by opposition figure Ekrem Imamoglu.
The defeat — the second in just three months after the ruling AKP called for a rerun citing irregularities — not only ends the ruling party's islamo-conservative 25-year rule over the city but also deals quite a blow to Erdogan himself.
A quiet force
Imamoglu is modest in triumph. He successfully imposed his vision through a quiet determination and a calm and unifying tone — a not-so-easy feat in a county that has been ruled by repression, fear and the gagging of independent media since the July 2016 failed coup d'état.
His ability to never polarise, enter into an ideological battle or attack any of his opponents is what has particularly impressed international observers. Even the controversial cancellation of his first March 31 victory was not enough to bring him down. Instead, he rallied his Social Democratic Party supporters again under the motto "Everything will be fine."
And everything did, indeed, turn out just fine. His strategy allowed him to re-energise his base, broaden his appeal and gather the support of the main pro-Kurdish HDP party on the left, and the nationalist IYI party on the right, thus bolstering his lead over his opponent from 13,000 ballots in March to about 800,000. He won with 54% of the vote.
Upon the announcement of his victory, the new mayor even called the Turkish President to ask that they "work together to serve Istanbul", "in harmony".
Could he bring down Erdogan?
That's how, at just 49, Imamoglu positioned himself as the man of the situation and made the seemingly untouchable AKP falter and Erdogan's pedestal start to crack.
He, who only entered politics a decade ago, and whose relaxed and detached attitude ever since ostensibly rendered him harmless, has now become the undisputed champion of the Turkish opposition.
Istanbul's mayor position could now allow him to establish a more national stature. His supporters already see him as a bulwark against the president's repressive policy with many hoping he could be the one to topple Erdogan in the 2023 presidential election.