EU summit: No reopening of Brexit negotiations, say Tusk and Juncker
Comments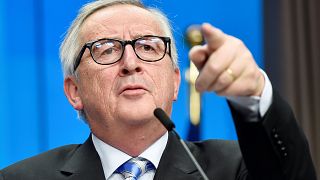 Copyright

REUTERS/Eric Vidal
EU leaders arrived in Brussels on December 13 for the last council summit of the year.
British Prime Minister Theresa May sought "legal and political reassurances" from European officials on the Irish backstop, an issue integral to her government's Brexit deal.
It has been a turbulent week for May — she survived a no-confidence vote on her leadership after she postponed the final vote on her Brexit deal.
In an address on Friday, she said the EU was open to further talks on Brexit, but that this was the final deal.
"The EU is clear, as I am, that if we are going to leave with a deal, this is it, but my discussions with colleagues today have shown that further clarification and discussion following the council's conclusions are, in fact, possible," May said.
Both EU Commission President Jean-Claude Juncker and President of the European Council Donald Tusk reiterated that there would be no further negotiations on Brexit.
"We have to exclude any reopening of (Brexit) negotiations," said Tusk
Concerning a video of a frosty exchange May had with EU Commission President Jean-Claude Juncker, she said the conversation was "robust".
Lip readers and Twitter users claimed May was bickering with Juncker as he had called her "nebulous".
She refuted this at the press conference and said he was referring to "the general level of debate".
Juncker echoed this, saying: "I did not refer to her but to the overall debate in Britain.
"I can't see where the British Parliament is heading at and that's why I was saying this is 'nebulous', 'foggy' in English."
Euronews brought you live updates from the summit, with the latest news provided by our journalists on the ground in Brussels.
Here's how events unfolded: