Dramatic waterspout forms off coast of Italian port town | The Cube
Comments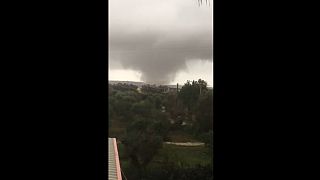 Copyright

Facebook/Laura Rattazzi
An enormous waterspout formed off the coast of Italy's southwestern city Salerno on Tuesday evening, overturning cargo containers in the harbour.
A waterspout is a "whirling column of air and water mist," according to the US National Ocean Service, some are just as dangerous as tornadoes.
Eyewitness videos and photos posted to social media show the waterspout edging closer to land.
Antonio Stanzione, who was having lunch at his girlfriends house in the nearby coastal town of Vietri Sul Mare, said he had "never seen such a scene."
"The first thing I thought was 'how wonderful' what nature can create," Stanzione told Euronews, "Then afterwards I felt a huge thump and I thought the situation was getting dangerous."
"I also saw flying debris, it was scary. This will remain indelible in my mind."
According to local reports, the mooring ropes for a ship were broken and several cargo containers were overturned, but there was no significant damage reported.