'It will survive' - Brussels remains stoic about Brexit deal
Comments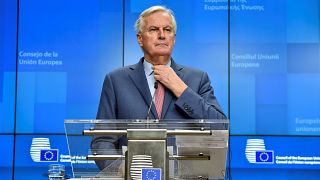 Brussels is gearing up for a busy seven days which could see the success or failure of the hard-won Brexit deal. Arriving in the Belgian capital for a meeting on said deal, Austria's Minister for Europe said it would be "a painful week in European politics." He added, "we have divorce papers on the table. 45 years of difficult marriage are coming to an end."
With resistance growing to the withdrawal agreement in London, the EU remains stoic on whether the deal will make it to the end of the week. Didier Reynders, Belgium Foreign Minister,
"Here it will survive. We are waiting for the same situation in London, but here it will survive."
The EU's chief Brexit negotiator Michel Barnier defended the deal as 'globally' fair and balanced.
On the transition period, in which the UK remains part of the EU in all but name in order to sort out future trade, Barnier elaborated:
"It's a period which I believe is essential for the UK, for its preparations or the creation, of its bureaucracy, in certain areas, such as for businesses, but it's also a period where we don't know what will happen, because it has to be negotiated."
What is certain, the week is due to culminate in a special EU Summit on Sunday, but uncertainty surrounds whether events in the UK will mean Brussels will prepare a Brexit deal, or its contingency plans for a No Deal scenario.
GIBRALTAR
The Spanish Minister of Foreign Affairs, Josep Borrell, asked for clarification about Gibraltar in order to back the draft agreed on Brexit.
Even if he said this is not a veto, he also said that they will not approve the text on Sunday if there is no legal certainty on the fact that any negotiation related to Gibraltar will need the approval of Spain. The uncertainty comes from article 184.