What do Europeans think of the Brexit deal?| #TheCube
Comments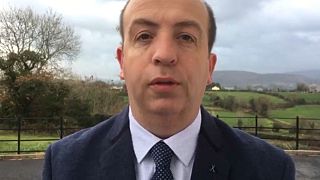 It has been a tumultuous afternoon for politicians and political pundits alike in Westminster as the UK comes to grips with the fallout of the draft Brexit deal.
UK Prime Minister Theresa May was hit with numerous resignations including Dominic Raab, her Brexit Secretary. May was also flooded with calls for a motion of no confidence with the Irish backstop suggestion and customs regulations being the prominent criticisms with regards to the draft deal.
The Cube spoke to people across Europe to get their reaction to how the Brexit deal may affect them.
Damian, a farmer from the Republic of Ireland, praised the deal which he said allows his farm to continue to trade across the border. The draft agreement will avoid a hard border which Damian said will be a relief to his wife who is a cross-border worker.
The deal "ensures the economy is protected, the jobs are protected and that Irish citizens' rights are protected going forward," he added.
In Britain, florist Rosa Ashby spoke to Euronews about the concerns she has for her flower shop in Witney, Oxfordshire, following the announcement of the draft deal.
"I can't give quotes for weddings next year," she said, citing uncertainty over tariffs and customs arrangements that may change the price of the flowers she imports from Europe.
While the individual voices Euronews spoke to were mixed in reaction to the Brexit draft deal, a YouGov poll taken overnight on Wednesday found that the majority of people would be in favour of a second referendum.
Surveying a total of 1153 people, the poll found that 51 percent of respondents would support a second referendum for the UK to either remain in the European Union or leave with no deal. Less than 30 percent of the respondents said it would strongly oppose a second vote.
When asked how people would vote in a second referendum, the same poll found that 46 percent would vote to remain in the EU, while 37 percent would vote to leave without a deal.
Less than 20 percent of respondents said they didn't know which way they would vote.