European Ombudsman Criticizes European Commission over Selmayr Appointment
Comments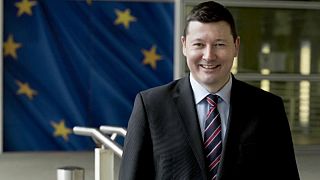 The European Ombudsman has criticized the European Commission for the way in which it appointed its top civil servant. 
The ombudsman said the commission had "stretched and possibly even overstretched the limits of the law the limits of the law" when making Martin Selmayr its Secretary General through a fast-tracked process.
Ombudsman Emily O'Reilly's report concluded that the Commission had failed on 4 counts, at the level of: 
- a potential conflict of interest among interested parties; 
- the composition of the consultative committee; 
- the selection process itself, which involved Selmayr's appointment first as Deputy Secretary General; 
- secrecy about the vacancy, which created a sense of urgency to fill the post
Despite these criticisms the Commission today rejected suggestions that Mr Selmayr should resign. 
When quizzed by Euronews's political editor Darren McCaffrey over whether Mr Selmayr should resign and reapply for the job, the European Commission's spokesperson said:
"While we do not share all aspects of the underlying report, we welcome that the ombudsman based on the extensive material she received from us, neither contests the legality of the appointment procedure of the Secretary-General, nor the choice of candidate, who is described as a competent EU official, highly committed to the European Union."
The ombudsman's findings do not suggest that Mr Selmayr should not continue is his post, but it does raise questions about the transparency of the European Commission.