Marking the start of Ramadan - in a Brussels church
Comments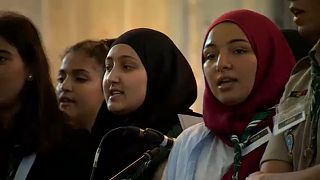 In a show of multi-faith strength, Christians and Jews come together with Muslims to mark the start of the Muslim Holy Month, Ramadan, at a church in Brussels.
"We have chosen this moment of the holy month of Ramadan, the month of sharing and forgiveness, to celebrate and share with churches of all faiths and all cultures, to show that Muslims are not all terrorists - and that we must have a good coexistence among religions and other philosophies," explained Lahcen Hamouch, President of the Al Mouwan Association.
And everyone at the church shares the Iftar, the meal eaten by Muslims after sunset during Ramadan.
"What we are doing is an extraordinary symbol of the power that comes from common initiatives like this," said Catholic priest Jacques Hanon.
"We also want to show strength that lies in responding to setbacks, fears, violence, hatred and discrimination together."
And it's clear the multi-faith event is creating connections - a chance to share ideas and look to the future.
"This is a moment we share with others, and there is no better opportunity to talk to each other than to eat together, sit together at a table, nothing could be more pleasant," said Evelyn Haberfield of the Jewish community in Brussels.