The EU's smaller farmers fear subsidy cuts in the CAP budget review
Comments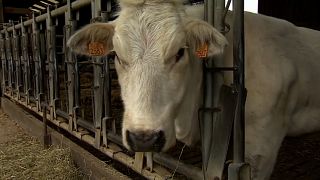 One of the EU's cornerstones, the Common Agricutural policy, is up for budget review and likely to be cut. For medium-sized farmers the size of the EU subsidy is crucial.
"In the current circumstances, let's be clear, our earnings come from there. We can't survive without them," says Phillipe Janssens, who owns and runs a farm some 100 kms from Brussels.
Farming is in the family. Philippe's father ran the farm before him and his son hopes to one day carry on the tradition.
"The farming sector has been encountering difficulties for a number of years now, so we've tried to maintain our farm, to make savings here and there and make our farm more efficient. With the CAP we hope to see a budget which strengthens and maintains this family-style agriculture."
Brexit will punch a hole in the EU budget, and the CAP which represents the largest slice is the most obvious target for cutbacks. One criticism of the current policy is that it favours bigger agribuisnesses over family-run farms.
"When I see what's happening over time, they have their resources, young people, so we have to trust them. I have the impression that they will be faced with big problems. It won't be easy, but I suppose we have to count on the next generation to pull through."
So life is far from sweet right now, down on the farm.