Syria: Ex fighter calls on West to act over Turkey's Afrin assault
Comments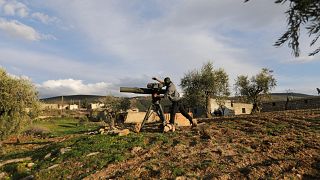 Copyright

REUTERS/Khalil Ashawi
Kurdish YPG militia are calling on the Syrian army to help repel Turkish forces along the border of Afrin.
The Kurdish enclave, inside Syria, is being targeted by Ankara because because it deems the YPG as a security threat along its border.
One Frenchman, who fought with YPG, told Euronews the West needs to act.
Referring to the Kurdish fighters, William said: "They are attacked by the Turks who use units that are themselves made up of former Daesh, former Al-Nusra, former Al-Qaeda and who are the same enemies. Turkey hasn't been our ally for a long time. I think the West should be aware of this and take appropriate measures."
Turkey sees the YPG as a terrorist group, an offshoot of the PKK insurgency it is fighting on home soil. It rejects claims being made by former fighters like William.
"We absolutely refute accusations. They - referring to the YPG - are a direct extension of the PKK," AK Party Brussels Office Representative Ruhi Açıkgöz told Euronews.
"The PKK is an organisation regarded as terrorists by the European Union, by NATO and the US. When you collaborate with the Syrian extension of PKK, you collaborate with the PKK."
Both Syria's president and the YPG regard Turkey as an enemy and its offensive in Afrin is making an already messy war even more complicated.