Turkey told to lift its state of emergency by MEPs
Comments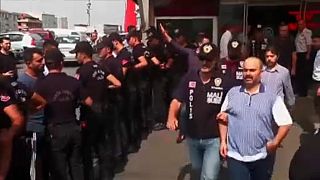 MEPs have urged Turkey to lift the state of emergency imposed after its failed military coup in 2016.
In a resolution put before the European Parliament in Strasbourg, lawmakers say it is being used to "stifle legitimate and peaceful opposition."
"There have been some small steps in certain human rights cases but violations have continued hitting prominent civil society figures, social media users, medical staff, the list goes on," the head of the EU's diplomatic service, Federica Mogherini, told the assembly in Strasbourg.
Lawmakers also condemned Turkey's military assault in Afrin in Kurdish northern Syria and what they say are the arrests of hundreds of people who dare to criticise the operation.
They say money helping Turkey prepare for EU membership should be made conditional on Ankara improving its record on human rights, democracy and the rule of law.
Euronews correspondent **Gulsum Alan **says:
"The European Parliament wants Ankara to be directly held to account, in contrast to the Commission and member states who prefer the language of diplomacy. The parliament says the attempted coup is being used as a pretext to silence the opposition. The assembly is asking the Turkish government to set free all those detained without good cause immediately and without condition."