EU Summit closes with agreement on Brexit trade talks and eurozone reform
Comments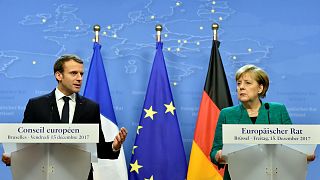 As the EU summit wrapped up in Brussels, some good news for Britain's Theresa May: Her 27 European colleagues agreed that Brexit divorce talks have made enough progress to move negotiations to phase two. That's when the discussion can widen to include the transition phase and - eventually - a framework for trade deals.
Donald Tusk, President of the European Council said: "It is now time for internal EU 27 preparations and exploratory contacts with the UK to get more clarity on their vision".
Also on the summit agenda, eurozone reform - a top priority for French President Emmanuel Macron. But Angela Merkel's struggle to form a new coalition meant his plans for a common eurozone budget will have to wait.
"Our objective is to be able to converge in March because by then this political step will have been reached in Germany and we will be able to build much more clearly together on this subject," Macron said at a joint press conference with Merkel after the summit came to a close.
Chancellor Merkel signalled her commitment to moving forward with the plan.
"Will there be convergence? All I can say is that I want it. And where there is a will there is a way, as we say in Germany. We will find a common solution because Europe needs it."
Plans for the eurozone reform include a Eurozone finance minister, monetary fund and deposit guarantee fund
Macron says he's aiming to have a roadmap in place by June.
You can watch the press conference here: