EU's Barnier seeks Irish border solution
Comments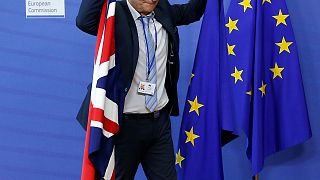 The EU's chief Brexit negotiator Michel Barnier has reiterated the importance of striking a deal with the UK that stops the return of a hard border between Northern Ireland and the Republic of Ireland.
He insisted preserving the Good Friday Agreement and Common Travel Area is a "majority priority" for Brussels during negotations.
"The sovereign decision of the United Kingdom to leave the EU and, it was confirmed yesterday, to leave the single market, also to leave the customs union creates a lot of uncertainties and often a great uncertainty, For citizens and their rights and this is obviously the case for the issue of borders and, in particular, for Ireland," said Barnier in Luxembourg.
The Irish government says that will be one of its main conditions for supporting a deal on Brexit.
"We will be able to provide you with a solution that will help you make the right choice." Hard to build, and one that maintains the supports of the kind of normality on the island of Ireland between North and South," said Simon Coveney, the Irish foreign minister.
Barnier met with his British counterpart David Davis on Monday for the first round of Brexit negotiations.