Fighting extremism - in and out of prison
Comments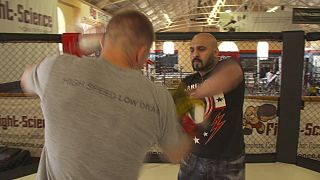 Usman Raja is a cage fighting coach. Today he's training a potential light-weight champion. But he's taken on another fight as well.
in my prison sentence I was transferred numerous times. Kept in segregation. And to be honest it only cemented my ideology. It didn't change it.

Former inmate
Usman works with convicted terrorists both inside and outside of prison. He launched his Unity Initiative in 2009.
Since then he has succeeded in de-radicalising dozens of convicted terrorists and Islamist extremists. And some of that work was done inside the ring.
"This is fighting," Usman says. "When you are in the prison environment that these guys are coming from, you are validating yourself in that arena with violence."
"We're talking about environments where people are being stabbed in the throat at Friday prayers. Literally. When I've got these guys coming in here, I am able to take that aggression and that survival instinct that they have cultivated in there and really strip it away, but also challenge their idea of themselves from a very healthy perspective."
But despite his success rate, the recent spate of terrorist attacks both in the UK and in Europe have put the spotlight back on radicalisation in prisons.
Most of the attackers had spent time inside.
Is radicalisation on the rise in prisons? it's hard to know, because we do not have any clear statistics. And what happens to these prisoners once they come out and try to reintegrate into society?
It is estimated there are 130 convicted terrorists in British prisons. But a growing number of individuals convicted of Terrorism Act offences are back on the streets after serving their sentences. It's created a headache for British security agencies that more terrorist attacks could take place such as the one at Westminster last March.
At a Mosque in east London, Usman works with community members on identifying and helping those they feel are vulnerable to extremist ideology.
He also works with patrol officers, imams and former prisoners he helped de-radicalise, like Jordan Horner.
Jordan was jailed twice for his role in a "Muslim Patrol" which tried to enforce Sharia law on Londoners by shaming them in YouTube videos.
He said the first time he went to prison, little was done to change his extremist view of Islam
"When you enter a prison system and you're already notorious for certain actions and certain situations, there was not that sense that I was vulnerable and people were trying to radicalise me."
"It was completely the opposite. It was the sense that they were worried that I was trying to radicalise other people."
"Hence in my prison sentence I was transferred numerous times. Kept in segregation. Kept moving wings, moving to different parts of the United Kingdom, finally ending up in Belmarsh which is a high security prison. And to be honest it only cemented my ideology. It didn't change it."
Jordan converted to Islam when he was sixteen. But how to change an ideology that led him to join the Muslim Patrol and film these videos which led to two prison convictions for assault and violence?
When he was released the first time, his probation officers suggested he contact Usman.
Jordan says Usman helped him to deal with the anger that had led to this extremist ideology. He taught him to embrace a more open-minded and tolerant interpretation of Islam.
Usman also got him training in martial arts.
"When I first embraced Islam, the first sense that I got was a sense of brotherhood, you know? And certain individuals, they would exploit that."
"So they would exploit politics. International politics and they would use a religious tone around that sense to sort of engrave inside you this hatred for others."
"And it was once I had time to reflect and think and analyse what I had done and with Usman, he ran the narrative of put your family in those situations and as well from the religious tone as well, that does Islam justify that?"
"The people you see go and join ISIS or the people that fall into extremism are people that start with concerns for their fellow man but then when that concern is taken and put into a mould of hatred, that is where the problem comes in."
"When it comes to hatred, this idea of, 'if they've killed one of ours then we can kill one of theirs'. And when actually you explain from a traditional Islamic point of view, when you are dealing with humanity, if one part of it hurts, all of it hurts."
But when it comes to extremism, there is no gender barrier and no one knows this better than Usman's wife, Angela. She works with convicted female terrorists both in and out of prison.
She prepares community members who will soon be working with released prisoners. She warns deradicalisation takes time and patience, especially when some might get a "hero's" welcome.
A medical doctor with four children, Angela says what happened to her after the November 2015 Paris attacks is one of the reasons she continues her work with extremists.
" I was walking through just a store with my two little girls at the time and the French attacks had just happened."
"My daughter was three or four at the time and this man walked past and she said hello. And he said 'don't say hello to me you Muslim scum'. 'Sorry, what did you just say?' And he said, 'I said don't talk to me you Muslim scum!"
"I was completely in shock. He said 'look at what your people have done in Paris'. That reaction, that Islamophobic reaction builds up the Jihadist rhetoric, it builds up the Muslim extremist argument that says 'look, they are against you'".
Although the overall number of Muslim extremists in the UK is small, the impact on Britain's Muslim population has been widely felt.
How to stop the rise in Islamophobia but also to deradicalise and reintegrate extremists back into mainstream society is a main goal not only for Usman and Angela but also for Ashfaq Siddique.
A community volunteer, but also a law enforcement officer for over 30 years, Ashfaq worked, among other things, on a report aimed at tackling prison corruption by police and prison services in the UK.
He warns that separation of prisoners is a growing danger.
"You go into the prison system and you have gangs. You have the Muslim gangs, you have the Christian gangs. Unless we can fight that battle and win in the prisons, you are going to get more and more of this."
"At the moment, all the Muslims end up in one area, including those who are there for certain radicalisation, offenses or what have you."
"And some of these people who radicalise people are very charismatic people. Very clever, very sophisticated, very charismatic. They know what to say and what buttons to press in individuals who are already in a vulnerable position who need some support , who need some protection and who have got nothing else in life."
Winning the battle against extremism and radicalisation is a fight Usman Raja has vowed to continue, both inside and outside of the ring.
Live updates from our Insiders team