Insiders: Living with the threat of terror
Comments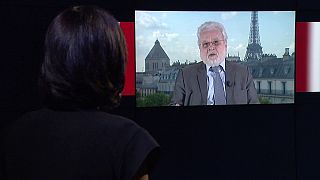 There is one thing that most intelligence experts agree on about Islamic radicalisation and that is that prison is fertile ground for would-be terrorists.
In prison, inmates often get radicalised, embracing extreme and violent brands of Islam. Other inmates they are in contact with are also at risk of becoming radicalised especially when would-be terrorists are in and out of prison.
Radicalisation in French prisons
Euronews' Sophie Claudet spoke to former intelligence official – Louis Caprioli, about how the problem of radicalisation could be tackled on a national and European level.
Euronews – Sophie Claudet
"Mr Caprioli, thank you for being with us. Have you also found radicalization in prison and if so, what can be done about it?"
Louis Caprioli – former french intelligence official
"Unfortunately, radicalisation is a historical phenomenon which goes back to the arrests of Islamic terrorists in the ninties.
"This phenomenon was not taken into account at the time because we were mixing people arrested for acts of terrorism with the rest of the prison population".
"And from the 1990s onwards, the problem has not stopped worsening. We have seen radicalisation of "common criminals" by Islamists who had, I was going say, a certain "prestige", an aura of having battled or of having committed terrorist attacks.
"To put an end to the phenomenon would require considerable financial resources in order to completely separate the "common criminals" from the terrorists and to give seperate cells to terrorists. So we need the financial means. We need well-trained personnel, but I do not believe that de-radicalization can start in prison because the people there are often sent for serious terrorist acts. So we have to think, not only on a French-scale, but on an international scale, or at least on a European one."
Euronews – Sophie Claudet
"Let's now talk about this new terrorist threat, at least the one that we have seen operating on European soil over the last few years. It is multifaceted, there is no typical profile either in terms of age or in terms of social background.
Louis Caprioli
"Concerning those individuals who have never appeared on the security services' radar ; it is a colossal challenge because anyone at one time can become radicalized by watching a video, going onto the internet and then taking action with their lorry; with their car, and that is unstoppable."
"Afterwards, you have this colossal work that is carried out to control social networks and here we're talking about meta-data management.
"As for France, we should create what exists in England: a unique service dedicated to managing information processing, much like the American National Security Agency. In Great Britain it is the Governmental Communication Headquarters."
"In France we already have two services that process this data, the DGSI and the DGSE. I think that everyone should work together, that there should be only one service.
"Perhaps it would be necessary at European level to have a "data processing" service, but this might be seen as an attack on the national sovereignty of States. And so I am afraid that we can't have this type of organisation, at least for meta-data management, at a European level. That would be one of the answers, one, but not the only answer. "
Zero-risk doesn't exist when it comes to terrorism. And according to observers, France is and continues to be particularly at risk… Its disenfranchised suburbs are at breaking point. It has the highest number of western jihadis enrolled with the so-called Islamic state.
And like other European countries, France is a democracy, meaning that it is neither acceptable nor possible to watch every citizen. With this in mind, there seems to be no choice but to live with the threat of terrorism.
Live updates from our Insiders team