Donald Tusk stays on as European Council President despite Polish opposition
Comments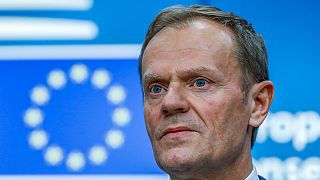 European Council (EC) President Donald Tusk has been re-elected for a second term, despite opposition from his home country, Poland.
According to initial reports, Tusk secured the votes of 27 out of 28 EU leaders at the European summit in Brussels.
The European Council just re-elected Donald Tusk as its president for a 2nd term from 1 June 2017-30 Nov 2019 #EUCOhttps://t.co/nxKKT7zktApic.twitter.com/6gI9iqfJKK

— EU Council (@EUCouncil) March 9, 2017
Tusk's re-election had been widely expected until a few days ago – when the Polish government put forward rival candidate, Jacek Saryusz-Wolski, despite Tusk's almost unanimous support.
Poland's governing party, the Law and Justice Party, was keen to oust, or at least discredit, Tusk, a bitter political rival.
The election of a European Council President need only be backed by a qualified majority of member states, but the tussle over Tusk dominated the early hours of the EU Summit – with several European leaders speaking out in support of him upon arrival in Brussels.
#Hollande latest leader to back Tusk 4 #EUCO Pres – despite Poland's opposition … as EU summit kicks off in bxl. Live coverage euronews</a></p>&mdash; Sarah Chappell (SLeandaC) March 9, 2017