Beware the 'bridges you burn' Tusk warns Poland
Comments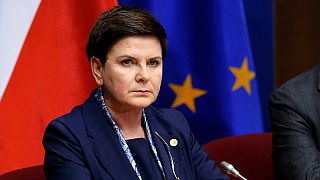 European Council President Donald Tusk was on Thursday re-elected for a second term, despite opposition from his home country, Poland.
Initial reports suggest that Tusk, who was been council president since 2014, was re-elected with 27 votes out of 28
The vote took place during the first day of an EU Summit in Brussels.
Speaking at a news conference on Thursday evening, Tusk had philosophical words for all the EU countries, especially his own.
"I prepared my beloved quotation: 'Be careful of the bridges you burn because once they are gone you can never cross them again'," he said.
"I want to dedicate this saying to all member states, especially before our discussion on the future, before the Rome celebration (commemoration of 60th anniversary of Treaty of Rome) – but especially today to the Polish government of course."
I will work with all of you without any exception because I am truly devoted to the united Europe: https://t.co/sEslFBMP3j#EUCOpic.twitter.com/NqcTMi1QNF

— Donald Tusk (@eucopresident) March 9, 2017