Serbia, Kosovo set for EU-backed talks
Comments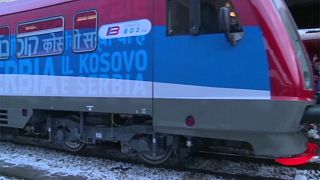 Senior officials from Serbia and Kosovo will hold talks in Brussels on Tuesday.
The EU-backed meeting is part of a long-term effort to normalise ties between the two.
Relations became strained once more when an ex-Kosovo premier was arrested in France this month on a Serbian warrant accusing him of war crimes.
"Both sides have committed to the dialogue and we expect that this commitment continues including to the implementation of the agreements that have been reached," said Maja Kocijanic, an EU spokeswoman.
Serbia launched a crackdown on ethnic Albanians in Kosovo in the late 1990s as a response to separatist movement .
The conflict was halted by a NATO military intervention.
Kosovo declared independence in 2008, a move recognised by most Western countries, but not by Serbia and its ally Russia.
Moscow called on the EU to strike a fair deal for both sides.
"In this situation the European Union needs to de-escalate the situation," Sergei Lavrov, Russia's foreign minister, said on January 17.
"They state, first of all, that freedom of movement for the population should not be restricted and secondly that ethnic Albanian forces should not be present in the north of Kosovo, which is populated by Serbs," he added.
Another row erupted over a week ago when a Serbian train with the slogan "Kosovo is Serbia" was turned back from the border between the two.