Kosovo celebrates ten years of independence
Comments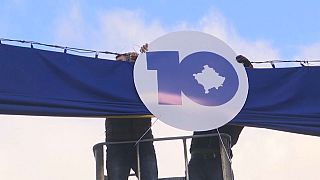 Kosovo is celebrating the tenth anniversary of its declaration of independence from Serbia.
Preparations are underway in the capital, Pristina for concerts, banquets and parties to herald the occasion.
UK based singer Rita Ora, who was born to Kosovo Albanian parents in Pristina, will be among the stars performing on Saturday night. In 2015, she was named an honorary ambassador for Kosovo by former President Atifete Jahjaga at the Kosovo embassy in London.
It is also a day for remembering those killed during the Kosovo war, which ended the oppressive Milošević regime's hold on the country and paved the way for independence.
Despite the jubilant atmosphere, however, Kosovo's independence is still not recognised by nearly 100 nations.