EU's Juncker stresses support for US free trade deal
Comments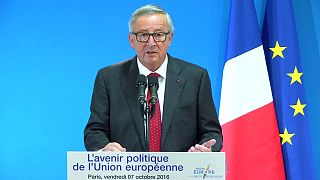 The head of the EU executive has reiterated his support for a free trade deal between Europe and the United States.
But Jean-Claude Juncker, the European Commission chief, said Brussels would drive a hard bargain.
Speaking in Paris, he said: "Europe won't kneel down before the Americans. We won't surrender the principle which have made Europe successful, but I want to say here that on the other hand we won't cut ourselves off from the rest of the world."
Supporters of the trade deal, which is known as TTIP, say it will boost economic growth and create jobs.
Critics claims it will lead to less protection for consumers, workers and lower environmental standards.