Barroso faces EU probe over bank job
Comments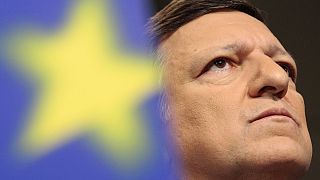 Former European Commission chief Jose Manuel Barroso faces an ethics probe after he joined Goldman Sachs.
His successor Jean Claude Juncker ordered the investigation following Barroso's appointment in July as an advisor to the US investment bank.
Juncker has sent Barroso "a letter asking him to provide clarification on his new responsibilities and the terms of reference of his contract."
European Ombudsman Emily O'Reilly said she was pleased the head of the EU executive had responded to the concerns
A group of MEPs have called for Barroso's EU pension to be withheld.
Former EU commissioners can lose pension riights if a breach of the EU's ethical code can be proven.
Barroso is yet to respond to Juncker's letter, which stresses that the former Portuguese premier will be treated as a lobbyist on his next visit to the Commission's headquarters in Brussels.
It means he will be granted none of the VIP treatment normally reserved for former presidents of the institution he once led.