Theresa May: what to expect from Brexit negotiations
Comments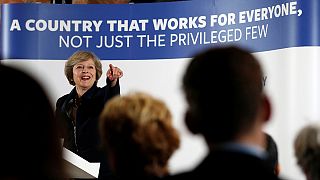 Without having won an election, Theresa May is taking the helm of the UK at a turbulent time. She faces the unenviable task of steering the country through negotiations to leave the EU. Her efforts will decide the future course of Britain and its relationship with Europe.
A lukewarm supporter of remaining in the EU, she made clear she will lead Britain out of the union, exclaiming "Brexit means Brexit and we're going to make a success of it."
Considered a moderate conservative, her stance on immigration is anything but. This could put her on a collision course with European leaders, as freedom of movement of EU workers remains a key condition to being part of the single market. She has also stated her intention to leave the jurisdiction of the European Court of Justice, another point unlikely to endear her to the heads of states of the 27 remaining member countries.
To discuss the future relations of the United Kingdom with the European Union, under Theresa May's leadership of the British government, Euronews' Isabel Marques da Silva spoke to Lincoln Allison, Professor of Politics, at Warwick University.
Euronews: What kind of negotiating style can the EU expect from Theresa May, who has been described as a difficult woman, or another Iron Lady, considering she will have to face, for example, German Chancellor Merkel and European Commission President Juncker?"
Allison: "The effect of Theresa May being Prime minister has calmed down the financial markets. And, because she was a mild Remainer, it has suggested the possibility of negotiations with goodwill, depending, of course, as you will know better than I do, on whom those negotiations are with, whether they are with the (European) Commission or whether they are with a broader European negotiating team".
Euronews: "Theresa May mentioned her desire to trigger Article 50 only in early 2017, but she is facing pressure from the EU to do it as soon as possible. Why does she want to delay and can she delay the process?"
Allison: "I think most people would have a message for the President of the European Commission, Jean-Claude Juncker, which is "he wants the British government to get on with it as rapidly as possible", and that message would be "you don't get to tell us what to do anymore under these circumstances". But, actually, the terms are extremely unclear (in terms of) what exactly the arrangements will be in the case of the Brexit negotiations: access to the single market, what kind of migration will be allowed."
Euronews: "Exactly, Theresa May was part of the Remain camp but now she insists "Brexit means Brexit". Does this shift in her earlier position affect her strategy, regarding, for instance, issues like migration?"
Allison: "Yes, it will certainly affect it. Migration is a very central issue. England is the largest, most prosperous English speaking country in the EU, it was an absolute magnet for migrants and that became, for many people, the main political issue. I don't think, as far as for a lot of "Brexiters" is concerned, the free right of people from 27 countries to come to the United Kingdom, or indeed to England if it were to become an independent country, is negotiable."