Rising Crystal meth industry winning drugs war
Comments
By
Euronews
with
ADELINE PERCEPT, KILIAN DAVY-BAUJARD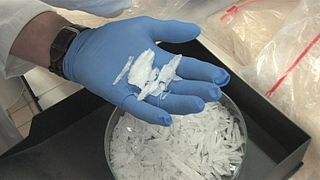 Petrovice is in the Czech Republic. The small town is close to the German border.
Patrick, whose name we changed for security reasons is an undercover policeman. Every day he tracks down Crystal meth traffickers. It is a highly addictive and dangerous drug often referred to as the "cocaine of the poor".
It is a drug that has shot to prominence in popular culture since the success of the TV series "Breaking Bad". It is the Crack of the early 21st century, ravaging entire communities and generating such huge amounts of cash that it has a pernicious effect on all those who come into contact with it.
"Try to hide your camera. Here we are in front of the typical bazaars where the Vietnamese sell Crystal," he tells the euronews film crew.
In these border bazaars run by the Vietnamese you will find t-shirts, bird cages, cartons of cigarettes…and Crystal meth.
"It's a very lucrative business for the Vietnamese – eight euros a gram to produce which is sold for 25 to 30 euros," added Patrick.
According to the Czech police who gave euronews the pictures the business is thriving. Twelve tons of Crystal are produced each year in the Czech Republic for the European market.
We cross the border heading for Bayreuth in Germany.
In a group of Narcotics Anonymous where we film many young people are here because of their addiction to Crystal. We meet Johannes. It is his first night here.
"This is my defibrillator. I wear it under my jacket. When my heart fails, it gives me a shock. It is the result of an infection which I got when I wasn't careful. Because when you're very ill and you take a line. You feel healthy after.
It's really hard to stop … I know I need to stop. Because if I see some friends, and they offer me a line, I'll do it immediately, right away…" he explained.
All levels of society are represented on the detoxification course. Workers, graduates, engineers, cooks. There are as many women as men.
Crystal meth is a drug which is easy to access and to produce. More than 1,000 labs have been operating in the Czech Republic and have been raided and dismantled by police.
The recipe for the drug has been known since the 1930s. It was the Nazis who favoured its spread. They gave it to their soliders at the front in the form of a tablet. It was called Pervitin.
The Crystal of today is a much more potent derivative. It contains 10 to 20 times more amphetamines than Pervitin.
The drug will keep a user awake for several days and nights in a row. That is what attracted Willy who is now in rehab because of it. He started taking it during his apprenticeship as an electrician.
"I was effective at work and my problems seemed to disappear. My crystal lines became so long that I needed the entire length of my window sill to make them. It made me aggressive and I withdrew into myself. I became cold. I had a near-death experience and it was not pretty," he explained.
Dr. Bernard Joseph was one of the first to warn about the spread of the use of Crystal meth in Germany. For him it is a drug that fits perfectly with our society, the way we work, and the way we play.
"This drug is in line with our lifestyle. I have many patients who are workers on assembly lines and work all week. When they go home on Friday evening they also want to party with family and friends. Then they get into this spiral and can't get out of it. It lasts for a long time until the body just can't take it anymore," he opined.
In Saxony the number of users increased tenfold in five years. Today there are 5,000.
After several overdoses and psychotic episodes, Willy wants to rebuild a new life. But he knows that statistically 75% of Crystal meth addicts will relapse.
And the 'plague' is in the process of spreading geographically according to the German customs officers who carry out daily inspections at the Czech border.
"In terms of the numbers we have seized less than before but we are taking far greater quantities. Despite all the checks we carry out we only manage to intercept a small part of what is on the market," said one officer.
It took the German authorities several years to get the measure of the problem. Today Crystal meth manufactured in the Czech Republic is exported to Belgium, the Netherlands and Great Britain.
Latest updates from our insiders team