Refugee convention "must be applied" in Turkey says UN High Commissioner for Human Rights
Comments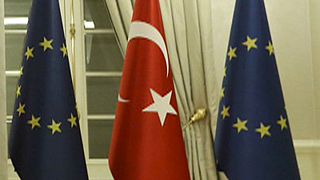 EU leaders are set to meet on Thursday and Friday. They are going to be discussing and, they hope, finalising a migration deal with Turkey.
Human Rights Watch's Kenneth Roth has described it as "a stark repudiation of international law and the very values upon which the European Union was founded."
James Francey, euronews: High Commissioner, if you had the chance to address EU leaders over those two days. What would you be telling them?
Zeid Ra'ad al Hussein, UN High Commissioner for Human Rights: It's a very good question. We don't know the details of this deal. We have expressed concerns over the possibility there won't be individual assessment (of refugee or asylum claims), which there must be. We have a fear that any form of collective return is something that we would disapprove of. And we do not want to see pushbacks at sea, which is of course a similar version of this. We do want to see the refugee convention applied to all those who merit refugee status in Turkey and so this is something that we hope can be addressed in the right way.
euronews: If I understand, what you're saying is – the draft deal in its current form, it's something that your office simply can't endorse because it is not compliant with international law.
Al Hussein: We haven't seen any draft. It's from what we heard. We are concerned and we have made those concerns known. We hope in the next 48 hours and in the preceding days that the lawyers have been working assiduously on this to ensure that the terms of this agreement – whichever shape it takes in the final form – conforms with human rights law. Perhaps over the weekend or perhaps early next week, we would be better positioned to pass judgement on it once we've seen it in detail.
euronews: Is Turkey a safe country? (NB – third safe country under Geneva convention)
Al Hussein: Well, if you look at the EU regulations and directives themselves, it is clear that this application of the refugee convention must encompass all those who seek refugee status or qualify for refugee status. So Turkey has not ratified this 1967 protocol which opens it up to non-Europeans and this is something that we need to see.
euronews: You took this job in September 2014. When you took up this position, did you ever think that you'd have to come to Brussels to remind people of their international obligations towards refugees.
Al Hussein: Welll, I have been surprised almost every week by some development or another. if member states begin to cut corners and violate these human rights obligations, which in many respects are binding law on them, then what argument do use for those who violate the rights of others, such as extremists, when you yourself could be accused of doing the same thing.