EU leaders must convince Turkey over refugee deal at Brussels summit
Comments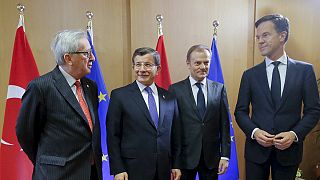 EU leaders are holding talks with the Turkish prime minister in an attempt to reach a deal over the refugee crisis.
After late night talks on Thursday, a joint position was agreed by EU leaders that for every refugee sent back to Turkey from Greece, a Syrian refugee would be resettled in the EU.
On arriving in Brussels, Ahmet Davutoglu was optimistic about a deal but said that there should be a humanitarian perspective.
"Turkish-EU relationship and Turkish EU-membership is important, not only for EU and turkey but for all international issues. We are working here in Brussels and in the past also in previous summits for a humanitarian issue. For us, for Turkey, the refugee issue is not an issue of bargaining, but an issue of values: humanitarian values as well as European values."
Financial and political Incentives being offered to Turkey in return for its help have been watered down.
The leaders of the member states may have agreed on a common position, but the most difficult part of the negotiations comes today as they now have to convince the Turkish prime minister over the details of the deal.