German anti-immigrant party eyes regional poll breakthrough
Comments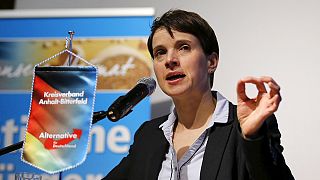 Voters in three German regions go to the polls on Sunday with the right-wing, anti-immigrant party Alternative für Deutschland hoping to make significant gains.
Locals in the 'Länder' of Baden-Württemberg, Rheinland Pfalz and Sachsen-Anhalt will cast ballots to choose which parties enter the respective regional parliaments.
The vote is being seen as a key test of German Chancellor Angela Merkel's 'Refugees Welcome' policy.
AfD, its German acronym, scored highly in the state of Hessen last week, finishing in third place and it expects to build on that success this weekend.
Euronews visited the town of Offenburg, a town of 58,000 close to the border with France. More than 1,000 refugees have settled there.
"We cannot call this asylum policy anymore," said Stefan Räpple, a local candidate there. "What is happening here is asylum chaos.
"If we get into the parliament, we will be really dangerous for the system. And we will improve Germany."
AfD was founded only in 2013 as Germany backed a series for bailouts for Greece.
That anti-euro stance has increasingly shifted to outspoken attacks on migration after more than one million asylum seekers arrived in the country last year.
A series of sexual assaults on New Year's Eve in Cologne have been blamed on asylum-seekers, prompting anti-immigrant protests.
Reverend Claudia Roloff, who heads the local church, said thsoe women have been "abused" twice.
"The women who were abused in Cologne at the beginning of the year are being abused once again – this time to attack the refugees.
"I am hoping for a pleasant surprise on the election night, but in the reality I am afraid. The polls are alarming. The ten percent for the AfD is a wake up call," she said.
German Chancellor Angela Merkel has remained steadfast in her insistence that Germany will welcome those in need.
But how long will Germany's doors stay open amid rising public anger and political opposition?