EU answers to refugee crisis 'against common sense,' says Hungarian minister
Comments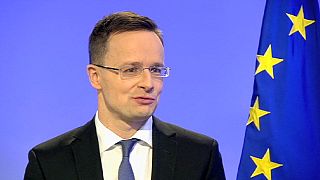 Hungary says controversial plans to create a new EU border force, which could intervene in a country without its permission, would violate "national sovereignty."
I don't think that it would be appropriate to have a new kind of regulation, which could force any member states to have any kind of measures regarding border patrolling
In an interview with euronews, Hungarian Foreign Minister Péter Szijjártó also criticises mandatory migrant quotas – describing them as "unimplementable" and "against common sense."
Szijjártó spoke to euronews reporter Sándor Zsíros in Brussels.
Sándor Zsíros, euronews: "Hungary has been in the spotlight this year because of the migration crisis. Many say that the Hungarian government acted in an inhuman way and the country's image suffered as well. Do you think it was worth resisting European pressure?"
Péter Szijjártó, Hungarian Foreign Minister: "I think that so-called common European, let's say answers, are rather hypocritical than effective.
"And Hungary always wanted to give a real answer to this real challenge. Although I understand we were not very popular with that among European institutions and European politicians.
"But at the end of the day it has been proven that the Hungarian solution, the Hungarian model if you wish so, works.
"Since we had an influx of five to eight to 10-thousand irregular migrants on a daily basis. And then we have made our own measures. Erected a fence on the external border of Schengen zone and European Union, changed the legislation, we deployed policemen, thousands of them to the borders and now we have an influx of zero."
euronews: "Hungary started a legal action at the European Court of Justice against the mandatory quota system of the Commission. What is the problem with this initiative?"
Péter Szijjártó: "Well I think that this mandatory quota system is unimplementable, is against common sense and violates European regulations.
"It's unimplementable because there are no hot spots being established yet, and the decision says that relocation is only possible from the hot spots.
"And no-one could tell us anything about the secondary migration. So if someone is relocated to Hungary, Bulgaria, Romania or to Slovakia, for sure they will leave the next day for Germany and we don't know how to hinder that."
euronews: "Now the European Commission started an infringement procedure against Hungary because of the new migration law which was introduced in September. Will you change this law according to the European Commission's proposals, or not?"
Péter Szijjártó: "Actually we are pretty sure that this part of the legislation is totally in line with both European values and European regulations. So I don't see any reason why we should change that regulation.
"We understand that there is a kind of revenge from Brussels, because we have turned to the European Court regarding the obligatory quota system and now there is an infringement procedure against us just suddenly. We understand that, but we think there is no legal basis for this infringement procedure."
euronews: "Now the European Commission has a new proposal for a border patrol agency, which would have new rules. For example, it would be able to act (even) if one member state is not able to protect its own borders. Do you support this principle?"
Péter Szijjártó: "I don't think that it would be appropriate to have a new kind of regulation which could force any member states to have any kind of measures regarding border patrolling, which is against the willingness of that given country. So that should be part of national sovereignty for sure. But in order to practice or perform this part of your national sovereignty, you can ask for help. But you can do it currently as well."
The European Commission will officially unveil the border force policy on Tuesday, but copies of the White Paper were leaked online last week.
EU leaders meet in Brussels on Thursday to discuss migration and terrorism; the White Paper will also be on the agenda.