EU ministers approve migrant relocation plan in face of eastern opposition
Comments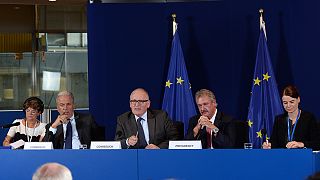 EU interior ministers have approved a plan to share out 120-thousand refugees among member states, overriding vehement opposition from four eastern nations.
Czech Republic, Hungary, Romania and Slovakia all voted against the proposals. Finland abstained.
Slovakia said the move had "nonsensically" caused a deep rift and vowed not to implement a quota.
Diplomats said ministers had voted to launched the scheme, backed by Germany and other big powers, in a bid to tackle the continent's worst refugee crisis since World War Two.
"The EU is accused of not moving quickly enough, so we had to adopt this legal decision on the relocation of 120, 000 people, as the Luxembourg presidency always planned," said Jean Asselborn, Luxembourg Minister for Immigration and Asylum.
"If we had not done this, Europe would have been even more divided and its credibility even more undermined."
The vote came 24 hours before EU leaders meet in Brussels for an emergency summit on migration.
Amid a continued influx of migrants, they want to focus on tightening external borders and ramping up aid for refugees.
Speaking from Brussels, euronews correspondent Sandor Zsiros said: "The European Council wanted an unanimous decision, but this didn't happen because of the rejection by four Central and Eastern European countries.
"That's why the EU leaders at Wednesday's summit need to address the division between Eastern and Western Europe on migration issues."