Record number of migrants enter the EU in August
Comments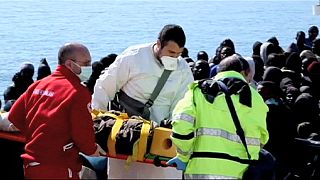 A record 156,000 migrants entered the European Union in August.
That is according to the bloc's border control agency Frontex.
It says more than 500,000 have entered the EU this year.
280,000 migrants crossed into the EU last year.
August marked the fifth consecutive monthly record, the agency says.
It comes as Europe struggles to find a solution for the large numbers of migrants fleeing poverty and turmoil in the Middle East and Africa.
Frontex has no border guards of its own, but helps national authorities work together on border management issues.
"We are talking about a legal obligation" – UN refugee chief Guterres
The world is facing the worst refugee crisis since the Second World War.
More than 350,000 people have fled to Europe since the start of the year.
Yet the EU has so far been unable to agree on a coherent strategy, with countries divided on what to do next.
Germany says it will welcome 800,000 asylum-seekers this year; Hungary however is toughening up its immigration laws and building a huge fence along its border with Serbia.
Euronews reporter James Franey spoke to Antonio Guterres, the UN's High Commissioner for Refugees.
James Franey, euronews:
"Just to get first reaction to the new laws that are coming into effect in Hungary. They are building this border fence alongside its frontier with Serbia, as I mentioned. They are also going to penalise so-called illegal border crossings. Are the measures that they are taking actually in line with their international obligations?"
Antonio Guterres, UN High Commissioner for Refugees:
"I think that if Hungary would be part of a system in which you have in the points of entry – Greece, Hungary and Italy – effective reception conditions; providing assistance to people, treating people in a dignified way, and then registration and screening, and based on that, those found to need protection being relocated and being relocated to all other European countries, Hungary would benefit from that much more than trying to take isolated measures in an isolated way to protect its border."
James Franey
"But you're a former prime minister yourself, some voters will say: why don't we help our own people first? Why are we letting in so many refugees?"
Antonio Guterres, UN High Commissioner for Refugees.
"If migration can take place in a regular way, in an organised way – without smugglers interfering and creating dramatic situations – in a context within Europe that, because of its demographics, needs migration… But when we talk about refugees, we are not talking about an option. We are talking about a legal obligation.
"Countries have the right to define their own migration policies. Countries have the right to say: "We don't want more migrants".
"But if a Syrian family which has had its house bombed, members of the family killed, if they come to Europe – any European country has the obligation to receive them and to grant them protection."
"We are talking until now of a bit more than 400,000 people who came to the Mediterranean, to Europe. The European Union has 508 million people. Now in Lebanon, you have one third of the population that is a refugee population from Syria and from Palestine. So it is clear that if Europe is together, if all countries cooperate, if all countries have their fair share, then this is a perfectly manageable crisis.
"If we go on with the chaos and confusion that we have, it is a tragedy for the people themselves and it is a tragedy for Europe and the Union."