Austria tops the migrant league
Comments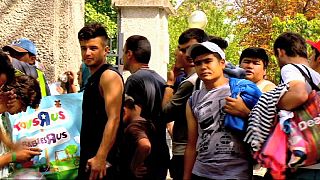 A migrant reception centre in Traiskirchen, Austria is now housing 4,300 asylum seekers, despite its official capacity of 2,300.
It is symptomatic of the increasing number of people arriving in the country. Austria had over 20,000 asylum applications in the first five months of 2015 alone and the total is expected to reach 80,000 by the end of the year.
"It was a little bit difficult to get here but I managed it…in a boat…it took me one month", said one young man from Ghana.
"The situation in Baghdad is not stable. Every day there are attacks", a woman from Iraq said. "Children are kidnapped on their way to school and in the playgrounds."
While there have been some accusations of inadequate care, Austria is doing what it can to help the migrants. Much of what is handed out has been donated by the Austrian people.
The country now has more asylum applications per capita than any other European country – having overtaken Germany and Sweden.