EU agrees 'end' to mobile roaming fees
Comments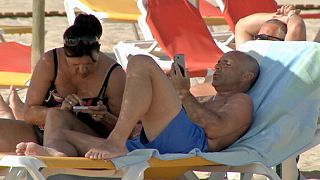 It's that dreaded moment of every summer holiday.
The long break that you've been looking forward all year can be ruined by the eye-watering phone bill that awaits you back home.
Now EU officials say they've struck a deal to end roaming charges when travelling inside the EU from June 2017.
It means you could pay the same to text, call and use data as you do at home.
The announcement comes after hours of talks on Monday between governments and EU lawmakers.
But there will be a fair use limit that still needs to be defined by the European Commission.
Telecoms firms will be able to charge a basic fee once that limit has been exceeded, the EU executive said in a statement.
The agreement will have to approved once more by MEPs and EU governments, but Monday's talks mean this is all but a formality.