Russia dismisses EU complaints over travel blacklist
Comments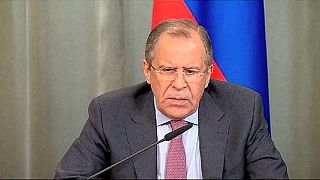 Russia has dismissed EU complaints about a travel ban on European politicians.
EU officials say Moscow's move to ban 89 lawmakers from travelling to the country is "arbitrary and unjustified."
'It is even quite embarrassing to explain the absurdity and awkwardness of such logic as it's an attempt to substitute international law with one's own political biases, but we naturally could not violate the main principle in the international relations – the principle of reciprocity," said Russian Foreign Minister Sergei Lavrov at a press conference in Moscow.
The EU has slapped travel bans on Russian officials and Ukrainian separatists accused of undermining Ukraine's sovereignty.
Moscow's list is largely made up of vocal critics of Russian President Vladimir Putin
Amongst them are MEPs Guy Verhofstadt of Belgium and Rebecca Harms, a Green MEP from Germany.
"There are no individual justifications whatsoever for the 89 persons on that list," said Heidi Anneli Hautala, a Finnish MEP from the Green group.
"There's no chance to appeal, no criteria, and the important thing is that there must be some legal basis for this type of quite strong personal sanctions," she told euronews.
Sandra Kalniete is a former Latvian foreign minister who now sits in the European Parliament. She was denied entry to Russia back in March.-
"This just confirms again that it is absolutely uncivilised pratcice, that a holder of a diplomatic passport has no idea that i find myself on a black list. Normally countries exchange information about persona non grata," she said.
EU leaders will discuss extending economic sanctions against Russia later this month at a summit in Brussels.