Greece: Relations with Russia under the spotlight
Comments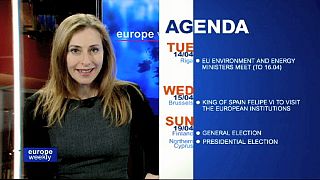 This week on Europe weekly, we reflect on the visit by Greek Prime Minister Alexis Tsipras to Moscow. While both sides were quick to say that no financial aid had been requested, talk surfaced of Greece's possible involvement in Russia's Turkish Stream gas pipeline.
Also in this week's show, Greece passed a key financial test when it repaid 459 million euros to the IMF. But other budgetary pressures are set to weigh on the government over the coming weeks.
The UK election campaign is in full swing ahead of the May 7th vote. Its future membership of the EU is being highlighted. UKIP wants out of Europe altogether while Prime Minister David Cameron has promised a referendum.
Finally, we speak to Antonio Guterres, the United Nations High Commissioner for Refugees, about the need for Europe to take more Syrian asylum seekers to ease the mega refugee crisis.