European airlines mull cockpit rule changes after Germanwings crash
Comments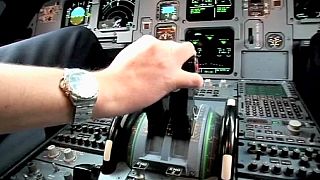 Following the Germanwings crash, a number of European airlines have changed their rules so that two people are in the cockpit of their planes at all times.
Norwegian, Air Berlin and easyjet are among them. Ryanair already has such arrangements in place.
But Lufthansa and Air France said no changes would be made at this time.
German Transport Minister Alexander Dobrindt said: "I agree with the proposal concerning the 'four-eyes-principle' (pilot and co-pilot in the cabin), because by this means one can avoid that any of them can be locked out of the cockpit."
The rule is a legal obligation in the United States, but not yet in Europe.
That decision was taken across the Atlantic after 9/11.
The European Commission says tougher regulations could be brought in here if necessary.
"We are waiting for the results of the ongoing investigation and see what lessons can be learnt," said spokesman Jakub Adamowicz.
The European Aviation Safety Agency is working with industry partners to see what can be done.