Cockpit lockout proves horrifying factor in Germanwings deaths
Comments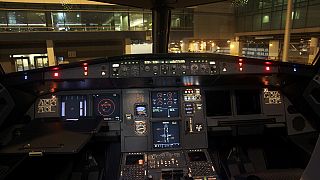 Since the September 11, 2001, terrorist attacks on the US, using hijacked planes, reinforced security has crucially included the cockpit — with provisions that are usually redundant. Yet these provisions also created deadly circumstances that abetted Tuesday's air crash in the southern French Alps.
The revelations about Germanwings suggest that an unbreakable door, button code locking and ignored procedures contributed to its doom. One flight recorder has yielded this conclusion.
Germanwings owner Lufthansa is not one of the companies that require a cabin crew member to temporarily enter the cockpit if one of the pilots steps out — a two-is-better-than-one principle applied by other carriers.
Cockpit locks are designed to be controlled principally from the inside, electronically.
Some critics say keypad entry could endanger cabin crew pressured to reveal them.
An unopposed outsider can get in, but can also be denied entry.
The Germanwings pilot was locked out by the copilot.
Industry standard strength for a door structure is supposed to be able to resist a grenade explosion. It cannot be battered down.
Timing protocols also exist. Germany's aviation safety authority allows one of the two crew in the cockpit to leave briefly.
In this case, the plane's pilot was attempting to get back in, and trying to get through to the copilot, as the last minutes in the air ticked by.
Experts note the average rate of descent from 12,000 metres altitude was a little more than 1,000 metres per minute, which could feel normal, a routine slope. The passengers could not know what the descent meant for them.
The banality is just as disturbing as if the cause had been mechanical or other.
The flight recorder verification suggests that the terrible final factor was the state of mental health of the young man who isolated himself at the controls.