EU's Juncker warns Greece again
Comments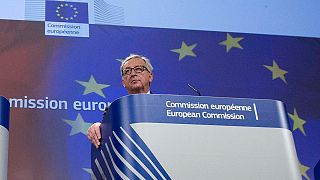 European Commission president Jean Claude Juncker has again warned Greece to do more on reform.
The head of the EU executive was speaking at a joint press conference with French Prime Minister Manuel Valls.
"I remain worried about Greece. I am not satisfied with the progress that we could have achieved in the past few days and I want all parties to get their wits together," Juncker said.
Those comments come as the Greek parliament adopted a "humanitarian crisis" bill on Wednesday.
It was the first package of social measures put forward by Prime Minister Alexis Tsipras' radical left-wing government, pushed through despite reports of European Commission pleas not to go ahead.
The move will grant food aid and housing funding to the poorest.
In Brussels, the EU's economic affairs commissioner Pierre Moscovici denied that the Commission had sought to block the bill.
With the technical level talks between Greece and its lenders virtually at a deadlock, an EU summit on Thursday and Friday appears to be Prime Minister Tsipras' last minute attempt to hammer out a political solution.
Several estimates indicate that the country could run of cash within weeks unless it finds a way to resolve the country's ever worsening funding problems.