Le Pen's party accused of misusing EU cash
Comments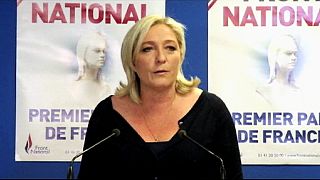 The far right Front National party of France has been accused of misusing European Parliament funds.
EU officials accuse Marine Le Pen's party of breaking staff spending rules.
MEPs cannot pay assistants with EU cash if their work has no link to their mandate.
"There is an enormous amount of money which is paid by the European parliament and we have to clarify if they work really for their parliamentarian assistant jobs – or in reality as assistants and advisers for the headquarters of the French National Front," said Martin Schulz, the president of the European Parliament.
Schulz has referred the matter to the EU's anti-fraud body OLAF.
The AFP news agency reported that the figure is as high as 7.5 million euros.
FN leader Le Pen denies any wrongdoing and is threatening legal action.
Euronews asked a number of MEPs from the Front National for comment.
None of them were available for interview.