EU holds crisis talks on Ukraine, Greece
Comments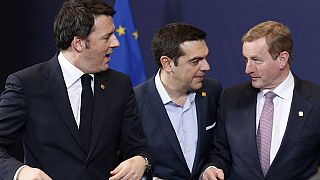 EU leaders met in Brussels on Thursday after the announcement of a peace deal brokered by Ukraine, Russia, France and Germany.
The meeting had initially planned to focus on tackling terrorism after the Charlie Hebdo attacks.
But recent events meant heads of state and government focused mainly on the Ukraine crisis and the Greek bailout.
It is not an formal EU summit, so there were no concrete decisions taken.
The talks come after eurozone finance ministers failed to strike a deal on Wednesday.
Greek Prime Minister Alexis Tsipras said he hoped the EU could "find a mutually viable solution, in order to heel the wounds of austerity, to tackle the humanitarian crisis across the European Union and to bring Europe back to the road of growth".
But it is not only Germany which opposed relaxing the bailout terms for Athens.
Other northern European countries such as Finland were equally sceptical.
Finnish Prime Minister Alex Stubb said Greece was "back at square one" after years of EU efforts to keep the country inside the single currency area.
"In the past five years we have done everything we possibly can, to keep Greece inside the eurozone and we will continue that, but commitments are commitments and we must all stick to them.'"
One EU expert said finance ministers will likely agree a deal next week.
"In the end they will reach a compromise, but even the compromise that might be reached on Monday will not be the final compromise or the final deal," Janis Emmanouilidis of the European Policy Centre told euronews.
Greece wants to massively restructure its debts and roll back from the austerity reforms passed in recent years.