Words as weapons: what's Europe doing to tackle hate on the net?
Comments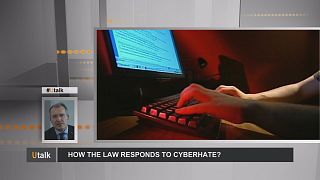 This week Utalk answers a question from Caroline in Avignon, France on the issue of hate content on the internet: "Lots of hate comments are being published on the internet. How does French and European law envisage dealing with this?
The answer is from Benoît Louvet, a lawyer wit LICRA (International League Against Racism and Antisemitism):
"Internet users should know that these hateful comments are criminal offences, as much as physical violence, for example.These offences are punishable in France by up to a year in prison and 45,000 euros in fines.
"In Europe there's a directive effective in national legislation which provides for two things. The first is that it asks service providers to put in place mechanisms allowing the user to report hate content.
"The second thing is that the website hosting providers, including social networks, have to remove illegal content reported to them by Internet users or face being held liable.
"In that case it will be down to the moderator of the social network to assess whether the content constitutes a punishable infraction as I just mentioned.
Unfortunately it's unrealistic to expect to be able to tackle all the hate content on the Internet.
"Also, unfortunately, some hosts, some social networks are not in Europe and do not consider themselves subject to European legislation and so don't comply with what has been stated above on the obligation to remove content and unfortunately sometimes some content remains online despite being reported."
If you would also like to ask a question on Utalk, click on the button below.