Chaos or cohesion: how will Europe respond to a major terror attack?
Comments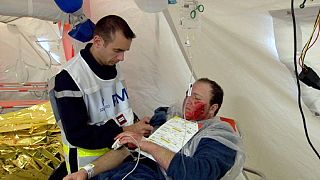 The spectre of a major terror attack hangs over Europe, with some analysts believing one is almost inevitable. The threat level against Western democracies has been rising steadily since the Afghanistan and Iraq wars and has been pushed even higher by the emergence of extreme jihadist groups such as ISIL.
So how prepared is Europe to respond to a chemical, gas or nuclear 'dirty bomb' attack on one of its cities?
Increased solidarity and cooperation between countries is seen as essential to having an effective response to a terrorist attack or a natural or man-made catastrophe. This is recognised as a priority by EU authorities, but they face significant logistical challenges in putting a cohesive plan together.
Can countries with different practices, equipment and culture and language really work well together? Those are the issues Paul Hackett explores with a panel of three experts; Dr Jamie Shea who heads NATO's Emerging Security Challenges section, Luc Rombout of the Belgium-based Crisis & Emergency Management Centre, CEMAC and Helena Lindberg, Director General of the MSB, Sweden's Civil Contingencies Agency .
Take a look at the video for the full programme.