Iraq PM denies requesting Iranian airstrikes against ISIL
Comments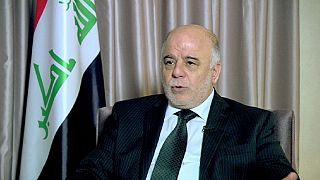 Iraq did not request Iran to carry out airstrikes on SIL targets inside the country, Iraqi Prime Minister Haider al-Abadi told euronews in an exclusive interview on Wednesday.
Al-Abadi was speaking after talks with the US-led coalition against ISIL, or Daesh, in the Belgian capital of Brussels.
When asked by euronews' Charles Salamé about the reports of Iranian airstrikes inside Iraq, the country's prime minister said that no such order "can be given without our agreement."
"Personally i haven't given any order or authorisation to fly over Iraqi territory," he said.
"I categorically deny that this has happened with our agreement."
"We did not authorise Iranian planes to take part in these strikes. Neither did we authorise Turkish planes nor any other country from the coalition," said al-Abadi.
Al-Abadi, who lived a large part of his life in exile in Britain, had spent the day in Belgium urging coalition partners to provide more funding to rebuild Iraq from destruction wreaked by ISIL.
A senior US State Department official said the Iraqi premier "didn't come with dollar amounts."
"He talked specifically about the humanitarian assistance and the need for reconstruction that will be needed in the wake of Iraq being able to recover its territorial integrity," said the official, who spoke on condition of anonymity.