Help! My business is collapsing
Comments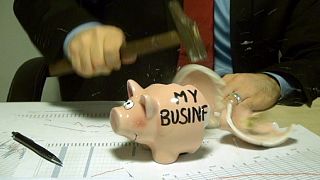 It is the hope of any business: achieving sustainable growth and confidence. But in these tough economic times it has become increasingly difficult to keep moving in the right direction. And for many entrepreneurs there is a real risk of their business collapsing, the threat of insolvency lingering in the background.
States everywhere face the same dilemma. How should insolvency cases be treated? And what is the fairest way of protecting the interests of everyone involved? Some say business start-ups and shut-downs are part of the course in this age of free-market policies.
And even the largest and most robust of economies are not immune. In Germany, for example, some 30,000 businesses have been going bust every year since the global financial crisis began in 2007.
In Berlin Right On met Sabine Reineke, a woman whose construction firm became insolvent last October, leaving unfinished jobs.
But the failure was not due to a lack of business. All of the clients were in fact public bodies, some of whom failed to pay on time for commissioned projects. And a couple of sub-contractors may also now face difficulties.
Sabine told euronews: "Some people may not be able to imagine what it means to be insolvent. For us as a company this has been an incredible blow. The business existed for nine years and, when you look at the work we did, you can see we did our job, and we did it well.
"Actually, even now, I find it hard to understand, that we had to file for insolvency as a company after nine years because of payment difficulties."
Officials say one in four European insolvencies are linked to late payments. Sabine says the anger over losing her business will remain for a long time, but she also feels for her staff.
"For the workers employed at my company – we're talking about 10 people – it was a major and painful change in their lives and for their families as well," said Sabine. "They lost their jobs practically overnight. Also, for me personally, it is very hard, as we have three kids."
Every country has its own laws on insolvency, and many are being reevaluated. European rules adopted in 2000 are also under review. These apply when a failed business has assets or creditors in more than one member state. The regulation, which also applies to personal insolvencies, was designed to improve coordination.
But there seems to be a shift in thinking about the priorities when companies start to go under. Some say current rules lean too much towards liquidation, when other options must be considered. And these differences have started to be noticed.
Christian Köhler-Ma, an insolvency administrator in Berlin, told Right On: "Some countries have a stronger emphasis on saving and restructuring companies in order to enable them to get back into business. This could be seen for example in England in recent years, and Germany applies this strategy with determination.
"France, too, has introduced insolvency reforms intended to encourage this. In other countries this is not so developed yet and even if laws are being changed, like in Spain for example, it takes a long time before they're implemented."
Experts say this reassessment has become even more urgent as the likes of austerity measures impact on business.
Euronews' Seamus Kearney reported: "Those who deal with insolvency say the human impact is often forgotten. And the statistics may be surprising. Every year in the European Union, since 2010, some 220,000 businesses go bust. And an estimated 1.5 million job losses are insolvency-related."
Any change in the European rules would be closely followed in a country like Luxembourg, just one example of where many businesses operate across borders. It may be a rich nation, but in 2010, for example, some 500 companies with staff went bust.
And some union leaders there say that if there is globalisation on the business level in Europe, there should also be more harmonisation when it comes to rules protecting laid-off workers.
Viviane Jeblick, an executive member of the Independent Trade Union of Luxembourg, told euronews: "We must help these people a lot more, with more follow-up and assistance. Businesses can't leave them alone, thinking their conscience is clear because those who lose their jobs get compensation. It's not enough.
"We do often forget the human aspect in all of this. We must have systems in place to foresee difficulties, so we can take action before insolvency happens."
That message has already been heard in some states, with so-called early warning policies put in place to try to keep struggling companies afloat. There are also now moves to encourage failed business people to be given more of a chance to start again.
But the approach is still very different from country to country, with Europe's current focus on insolvency coordination, not harmonisation of national laws. But could a more common approach be possible in the future?
Right On spoke to Gilles Cuniberti, an international law professor at the University of Luxembourg.
"The harmonisation of procedures to save companies in difficulty is very very complex," he said. "There's a big impact in many areas of the law and so I believe this harmonisation is really something for 20 years down the line, and in the short term it does not seem very realistic.
"The only possibility of more harmonisation is in certain specific areas, and maybe the protection of workers could be one of those. But, on the other hand, the way the procedures function and the treatment of creditors do not seem to be things to harmonise, even in the medium term."
For now though there is no doubt that attitudes towards business failure are changing, and politicians are keen to make sure that laws reflect that.
But it is a delicate balancing act: encourage risk-taking and entrepreneurship, and at the same time protect workers, creditors and customers.
And experts say it is important that struggling companies waste no time in seeking help, if there is to be any chance of one day returning to growth.