Compensation when denied the right to fly
Comments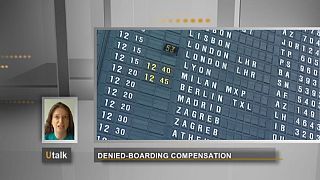 In this edition of U-talk, Päivi from Madrid asked: "I flew from Madrid to Helsinki via Berlin. I was denied boarding in Berlin because, apparently, the aircraft was full. I had to wait for the evening flight and I missed a very important family gathering. Can I claim any compensation?"
Isabelle Dochy, the Information Officer at the EU's information service Europe Direct replied:
"Yes, as you were denied boarding, the operating air carrier must pay you compensation varying between 250 and 600 euros depending on the length of the flight. If the carrier offered you an alternative flight with a similar schedule, the compensation may be reduced by 50%.
"EU law on passenger rights guarantees passengers denied boarding and stranded at an airport the following options: being rerouted to the final destination under comparable transport conditions, or having their non-used ticket reimbursed and, if necessary, a return service to the first point of departure.
"Bear in mind that if you ask for reimbursement of your ticket, you don't have the right to any further onward travel, assistance or re-routing from the airline.
"If you opt for re-routing, you are entitled to refreshments, meals, communications (such as a free phone call), and, if necessary, overnight accommodation while you are waiting for re-routing. In any case contact the airline first. If the airline refuses to fulfill its obligations contact the national enforcement body in the EU country where you were denied boarding. If it happened at an airport outside the EU with an EU carrier, you can lodge a complaint in the EU Member State of destination."
For more information about the EU, call 00 800 6789 1011 or check out the website: europa.eu/youreurope
If you would also like to ask a question on U-talk, click on the button below.