Flight cancellations: Passengers' rights
Comments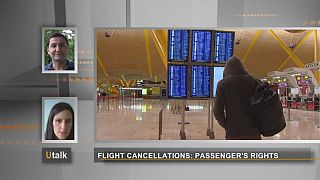 With summer all but upon us u-talk thought it was time to tackle the thorny subject of flyer's rights.
"Hello, my name is Arik, I was supposed to fly from Biarritz to Lisbon, but at my arrival in the airport I was informed that my flight was cancelled due to a technical failure. Is there any EU legislation which would protect my rights? Is the airline company responsible for the cancellation?"
The answer comes from Europe Direct's Senior Communications Officer Jimena Gómez de la Flor.
"Indeed, in 2004 the European Union adopted regulations on air passenger rights, which aims to protect passengers, travelling within the EU or by EU-registered air carriers, in cases of denied boarding, flight cancellation or long delays.
Once your flight is cancelled and you are stranded in the airport you have the 2 following options: being rerouted to your final destination, under comparable transport conditions, or having your non-used ticket reimbursed.
If you request reimbursement of your ticket, you give up the right to any further onward travel, assistance or re-routing from the airline company.
If you opt for rerouting, you are also entitled to refreshments, meals, communications, such as a free phone call, and, if necessary, an overnight stay while you are waiting for re-routing.
The airline company cannot deny you this assistance even under extraordinary circumstances.
You may also be entitled to a financial compensation, depending on the distance of the flight. If the carrier offered you an alternative flight with a similar schedule, the compensation may be reduced by 50%.
You will not receive compensation if the cancellation of your flight:
-was due to extraordinary circumstances.
-you were informed of the cancellation 2 weeks
before the scheduled flight date.
If your flight is cancelled, you need to contact the airline first. If the airline refuses to fulfill its obligations, you may contact the national enforcement body in the EU country where the incident took place. Or, if the incident happened at an airport of departure outside of the EU with an EU carrier, you can lodge a complaint in the EU Member State of destination.
For more information about the EU, call 00 800 6 7 8 9 10 11 or check out the website: europa.eu/youreurope
If you would also like to ask a question on U-talk, click on the button below.