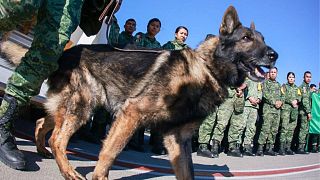 -
Copyright

AFP / MEXICAN FOREIGN MINISTRY
Mexico has paid tribute to a "heroic" rescue dog who died while searching for survivors buried beneath the rubble of the earthquakes in Turkey.
The dog - a German Shephard named Proteo - was one of more than a dozen deployed by Mexico to assist in the disaster response efforts.
Defense Minister Luis Cresencio Sandoval announced the animal's death at a daily press conference.
"You accomplished your mission... thank you for your heroic work," the military said on Twitter.
Mexico has also deployed 130 military personnel to assist in the clean-up.
"You were always a strong, hard-working dog who never gave up. I will always remember you," one rescuer who served alongside Proteo said.
What is happening in Turkey and Syria?
The death toll from the devastating earthquakes that struck Turkey and Syria has surpassed 41,000.
The 7.8 magnitude earthquake toppled thousands of buildings and destroyed critical infrastructure.
Rescuers are still searching through the rubble - but more than a week on from the initial tremor, successful rescues are becoming rarer. Humans can only survive so long without water, and freezing temperatures pose a threat to remaining survivors.
Nonetheless, there are moments of joy amidst the devastation. On Tuesday, nine survivors were pulled from the rubble. On Monday, a young girl was saved after being trapped in the ruins for 178 hours.