As border crossings open, some Syrian refugees return home to care for relatives after earthquake
Comments
By Anelise Borges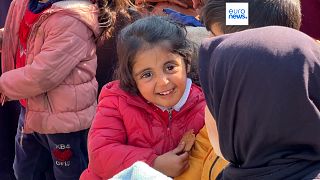 Queues of Syrian refugees are waiting on the Turkish side of the Cilvegozu Border Crossing after it temporarily reopened because of the earthquake - desperate to return to their home country.
The United Nations and President Bashar al-Assad's government agreed to open two more border crossings with neighbouring Turkey on Tuesday, seven days after the 7.8 magnitude earthquake that devastated parts of southern Turkey and northern Syria.
Before this decision, the UN was only allowed to deliver aid through the Bab al-Hawa border crossing.
Now, trucks of aid are not the only things crossing the border. The new opening has also allowed Syrian families to cross the border, some of whom have been living in Turkey for several years.
According to Euronews International Correspondent Anelise Borges, many people waiting to cross into Syria are trying to see their injured loved ones or determine if they survived the disaster.
And some just to see if anything from their previous lives is still standing.
Jamal, a 55-year-old from Idlib, is one of them. He told Euronews that he was "going to Syria because my relatives are hurt."
According to the UN, the earthquake killed around 6,000 in Syria, 4,400 of whom were in rebel-controlled areas.
The UN's figure is much higher than numbers released by Damascus of between 1,414 and 2,274 people killed in the disaster.
But the UN regional humanitarian coordinator for the Syrian crisis said the death toll will likely rise further as rescue teams continue to excavate the rubble.
Watch Euronews' report in the video player above to learn more.